For over 20 years, the SVP 133/145 Series has been the most popular line of Putsch® vertical panel saws in North America. Putsch® technology starts with a strong foundation; every machine is built using a heavy-duty monolithic steel frame to ensure accurate horizontal and vertical cuts (1/10th of mm/m). Coupled with a powerful UL-registered 5 hp main motor, the SVP 133/145 is a true workhorse that is ready to tackle any job.
We believe in offering value as well as quality, which means features like a horizontal repeat strip cutting device, aluminum support and lift-roller system and mid-grid retractable support shelf aren't optional – they're standard equipment.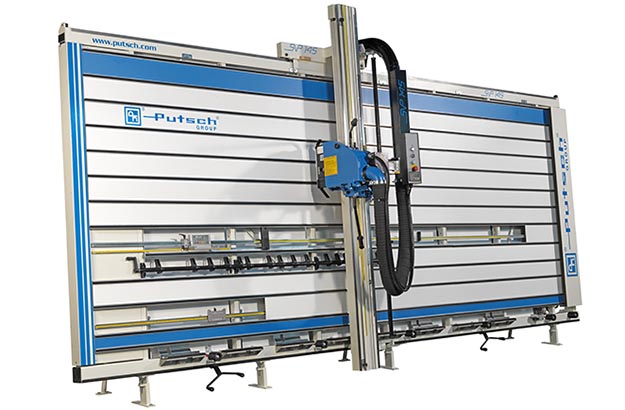 Space Saver requires less than 60 sq. ft. of floor space
The versatile Putsch® SVP 133/145 Series can be easily integrated into any workshop, regardless of budget. Every saw variation can be adapted to cut or groove a myriad of materials including wood-based products, solid surface, plastics, non-ferrous metals and composite panels. This includes the "just what you need" Basic, the moderately equipped Standard and the Automatic variation with automatic travel, plunging and carriage return.
The Putsch® SVP 133/145 Series is offered in three standard frame sizes (with extended frames available upon request):
The ultra-compact Space Saver (perfect for basic 4' x 8' sheets)
The mid-sized SVP 133 (ideal for 5' x 10' sheets)
The larger SVP 145 (for 12' or longer sheets)
Technical Specifications
Model
Max. Cut Height
Max. Trimming Height
Max. Cutting Length
Max. Cut Depth
Blade Diameter
Blade (RPM)
SVP 133 Space Saver
5' 3"
1600 mm
4' 6"
1400 mm
8' 2"
2500 mm
2.36"
60 mm
250 mm
6360
SVP 133
SVP 133 A
6' 3"
1900 mm
5' 6"
1700 mm
10' 6"
3200 mm
2.36"
60 mm
250 mm
6360
SVP 145
SVP 145 A
7' 2"
2200mm
4' 7"
1400mm
13' 9"
4200mm
2.36"
60mm
250mm
6360
Feature Comparisons
| Features | SVP 133 Space Saver | SVP 133/145 S | SVP 133/145 | SVP 133/145 A |
| --- | --- | --- | --- | --- |
| Motor (hp) | 5 | 5 | 5 | 6 |
| Mid-grid Support Shelf | ✔ | Partial | ✔ | ✔ |
| Horizontal Repeat Strip Cutting |   | ✔ | ✔ | ✔ |
| Lower Flip-stop |   |   | ✔ | ✔ |
| Sliding Thin Panel Support |   |   | ✔ | ✔ |
| Shifting Grid | Manual | Manual | Electric | Pneumatic |
| Motorized Saw Feed |   |   |   | ✔ |
| Plunging |   |   |   | ✔ |
| Saw Bridge Return |   |   |   | ✔ |