Working for world-class glass fabricators such as Pilkington, Trulite, Schott, AGC and Saint Gobain, the Putsch® SVP 1080 is the most cost-effective way to perform X and Y cuts on thick multi-laminates such as bulletproof, hurricane impact and fire-resistant glass. The Putsch® SVP 1080 glass saw saves valuable floor space, integrates smoothly with existing workflow and is simple to maintain.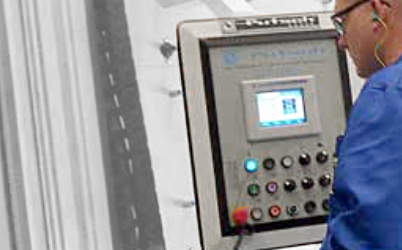 Programmable Interface (see: ~
2:53
in video below)
The SVP 1080 can be operated manually for small batch cutting or can be set to semi or fully automatic operation. Using the control panel, the operator has complete control over every action; from the speed of travel to the coolant flow rate. The touch screen can store and quickly recall programmed cut quotes, and the zero point can be established anywhere on the grid for faster set-up and cycle time.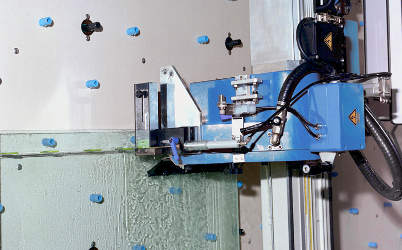 Automatic shim dispenser operating on a horizontal cut (see: ~
2:32
in video below).
The glass saw features a pneumatic shim dispenser to hold trimmed parts during horizontal cuts and glass clamps to help hold trimmed parts. Putsch® Asheville can fabricate a coolant recycling tank to capture and reuse coolant, that also acts as filter to collect glass or marble particulates.
We invite your company to send us sample glass for test cutting and documentation. If you would like to visit our technical center, or have a Putsch® representative visit your facility, please call 828-684-0671 or email info@putschusa.com.
See it in action
Technical Highlights
| Dimension | Standard Frame | Large Frame | XL Frame |
| --- | --- | --- | --- |
| Vertical Cutting Height | 99.21" (2520 mm) | 107.08" (2720 mm) | 130.70" (3320 mm) |
| Horizontal Cutting Length | 125" (3200 mm) | 200.78" (5100 mm) | 274.80" (6980 mm) |
| Frame Width | 64.6" (1640 mm) | 64.6" (1640 mm) | 64.6" (1640 mm) |
| Overall Dimensions | 137.79" x 173.2" (3500 mm x 4400 mm) | 145.66" x 248.42" (3700 mm x 6310 mm) | 170.86" x 318.89" (4340 mm x 8100 mm) |