Filtration and Separation Technology
Putsch®'s Filtration & Separation Technology (FST) provides consulting, technical solutions, sales, manufacturing, and services for the North American process industry. The technologies offered include Filter Presses, automated self-cleaning filters, and various other liquid/solid separation solutions. Putsch® FST is a part of the Putsch® Group with its American technical center in Asheville, NC. This facility provides services such as engineering, research, manufacturing, spare parts, and customer support for the US, Canada, and Mexico.
Typical applications include:
Food & Agriculture
Chemical & Petrochemical
Recycling & Environment
Pharmaceutical & Biotech
Pulp & Paper
Mining & Minerals
Pigments & Dye Manufacturing
Filter Products
Putsch® offers an extensive range of proven industrial solid/liquid separation filters. We offer filter cartridges and filter bags as well as suitable filter housings. Automatic screen filters are also available. In addition to this, Putsch® manufactures filter presses and supplies the corresponding accessories, such as plates and cloths. The filter range is completed by filter nonwovens and adsorption media, as well as filter papers for wastewater and electroplating systems.
Filter Cartridges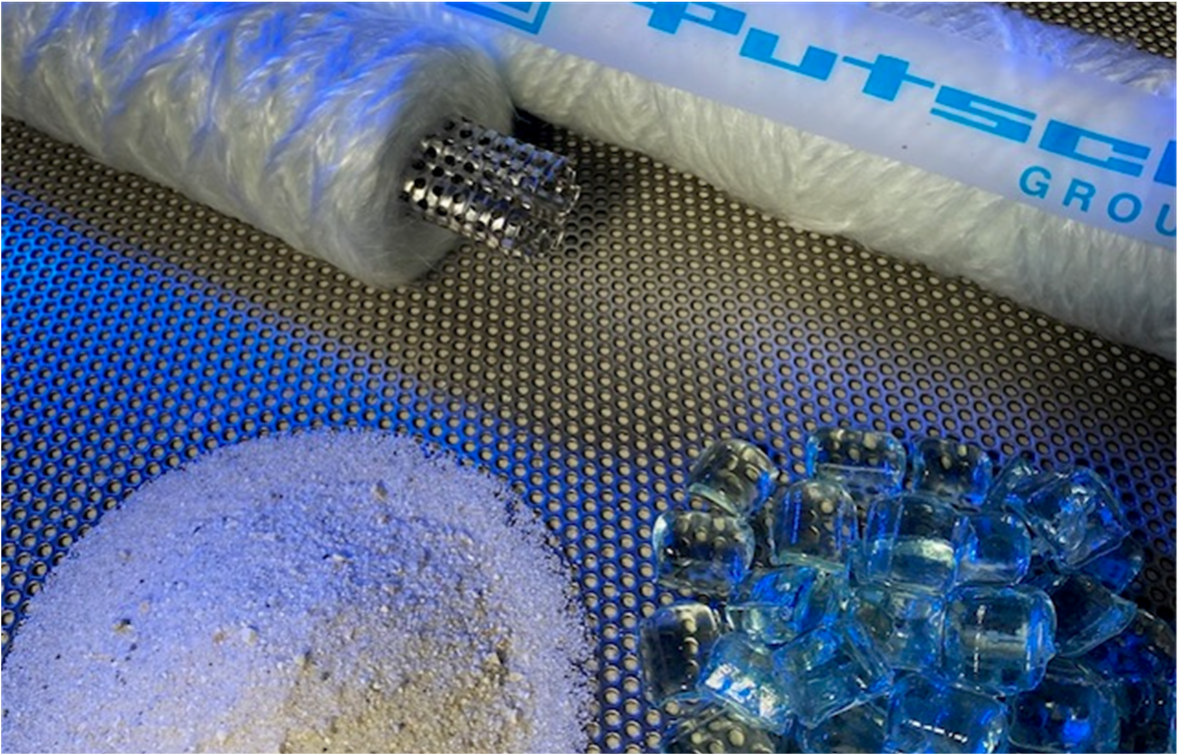 Putsch® offers a large variety of different filter cartridges for almost any area of application; such as baked and wound glass fiber, activated carbon, and metal mesh cartridges to name a few.
Cartridge Housings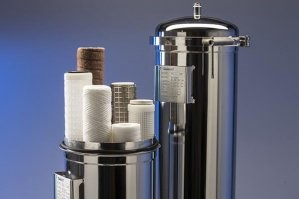 Putsch® offers a wide range of cartridge housings – made of metal and polypropylene, in many different sizes for a variety of applications.
Filter Bags
Putsch® filter bags are a widely used filter medium for many applications. Putsch® filter bags are usually equipped with a metal or polypropylene tension ring which holds the top opening of the bag filter open so the liquid to be filtered can flow through. One advantage of filter bags is the solids remain inside the filter bag so when you change the bag it removes the solids and the filtrate side of the bag remains clean.
Bag Housings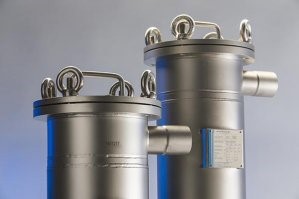 Putsch® offers a wide range of bag housings – made of metal and polypropylene, in many different sizes for a variety of applications.
Filter Paper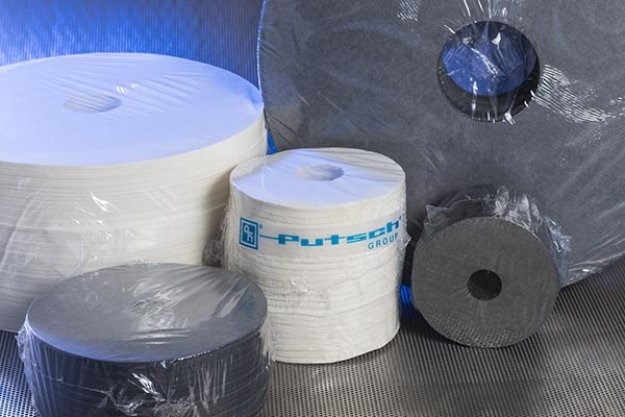 Putsch® filter paper is primarily a widespread medium in the electroplating industry which is used instead of filter cartridges. Putsch® filter paper is available in 3 different types (thin, thick, and activated carbon paper) and a variety of dimensions. There is a vast number of different inner and outer diameters depending on the manufacturer of the pump or filter chambers.
Anode Bags
Anode bags from Putsch® are primarily used in electroplating, where they protect the anodes against solids. Protecting the anodes is important because dirty anodes hurt the density in the electroplating process. When the density of the anode is compromised the layers in electroplating are no longer exactly even, electricity costs rise, and secondary reactions disintegrate the bath meaning the anode has to be replaced sooner.
Adsorption Media
Adsorption media is a type of polypropylene-based prefilter that is integrated into the filtration process. Putsch offers both "spaghetti filters" made of microfiber and "angel hair" made of fiber flakes. They are primarily used for very fine particles, which would quickly block any filter. Courser adsorption media does not clog up as quickly but therefore has worse filtration results. Finer adsorption media filters better but plugs up much sooner.
Filter Cloths
As a longstanding manufacturer of filter press systems, Putsch® knows exactly which filter cloths deliver the best results. We offer the full range of filter cloths in all variants – whether for Putsch® filter presses or third-party systems. We also offer custom filter cloths manufactured to customer specifications based on drawings of the cloth.
Filter Plates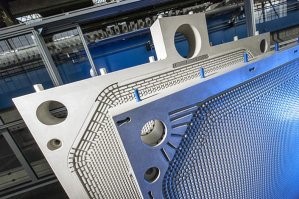 Putsch® has been manufacturing filter presses for many decades and is experienced with the required filter plates. Putsch® offers the full range of filter plates for any type of filter press – including for third-party systems. Putsch can provide you with all of your needs whether replacing individual old filter plates, expanding the range of plates, or converting fully to Putsch® filter plates.
Basket Strainer Filters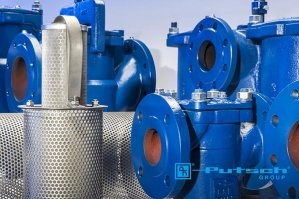 The compact cast design and the reusable basket strainers, which come in different sizes and open areas allow for a variety of applications: as a protective filter in machine lines, for cooling water systems, for cleaning drinking water, as a prefilter for coarse solids, and many others.
Putsch Filter Press Series MFP
---
The Putsch filter press series MFP was designed to incorporate large filter surfaces into a relatively compact footprint. It combines the advantages of the Putsch PKF filter press series with innovative new developments to maximize the filtration area. In addition to the filtration of sludge the MFP is particularly suitable for the filtration of large-volume flows with low solid contents.
Segment Filter SF Series
---
The patented Putsch® Segment Filter, SF series, is a discontinuous filter with automatic backflush for the filtration of various solid-liquid suspensions. This innovative filter system incorporates the advantages of our proven candle and frame filters to deliver amazing results and process high-viscose liquids. The Segment Filter has flat filter elements that provide a higher filtration area on the same footprint compared to classical candle filters. The filter elements are equidistantly spaced and sealed to avoid the bridging of filter cake and filtrate contamination.
The Putsch® Segment Filter is comprised of several pie slice-shaped segments as opposed to an entire pie. Each segment can be individually shut off meaning you can partially operate the filter. This is especially beneficial if you get a tear in a filter cloth and need to keep running. The segmented shapes make maintenance and handling much simpler. By having spare segments dressed up and ready to go before exchanging them, downtime is minimized.
Sibomat
---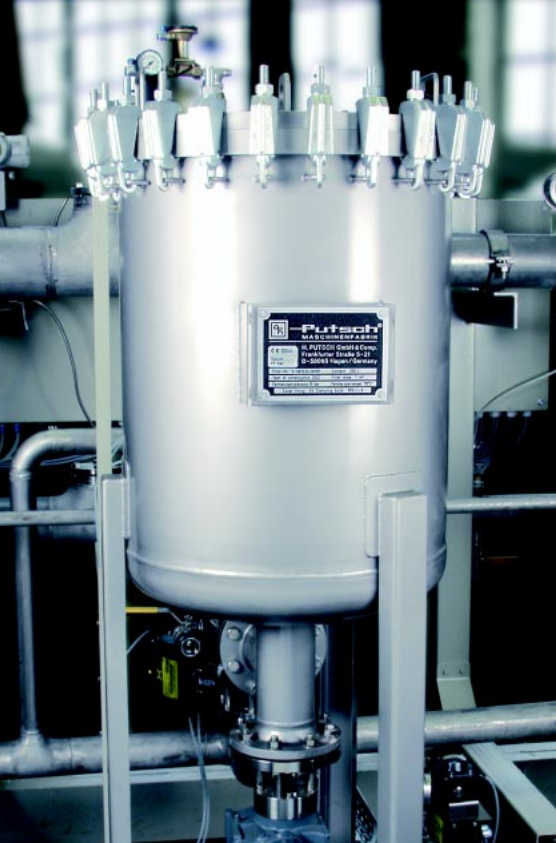 The Putsch® Sibomat is an automatic screen filter. It is geared toward the filtration of high viscose material.
The Sibomat is manufactured completely from stainless steel. The simple construction offers high operating reliability. The construction is operator friendly; with few wear parts. The filtration occurs in a closed system. Outside interferences do not influence the filtrate quality.
The retained solids collect on the inside of the fine screen and are removed by the rotating jet tube of the high-pressure cleaner. Also, incrustations are peeled off as much as possible, increasing the service time of the screen considerably. Tapered rings securing the screen on the basket are quickly opened, allowing the fine screen to be changed in a short time.
Screen Technology
---

Excellence in Screen Technology since 1857
When Fontaine® became a member of the Putsch® group in 1953, the Putsch Group broadened our expertise in filtration technology. This synergy results in process-oriented solutions, optimized for your requirements.
Fontaine® offers a wide range of products which is manufactured by our mechanical and galvanic production lines. Specialized production techniques and constant quality controls ensure a high-quality product. The flexible production processes allow for customized products and short delivery times.
Our team of international experts provides you with personal on-site service and will find optimal solutions for you.
With more than 150 years of experience in manufacturing, Putsch® understands the value of high performance. That is why we offer a full suite of quality filter systems and parts. These parts and systems will meet your needs for automation, reliability, and 24/7 operations while also maximizing your return on investment. When we founded Putsch® Filtration and Separation Technology Group in 2005, we pledged to bring together the best of German quality and US engineering in manufacturing, resulting in reliable, cost-effective solutions that work as hard as you do.