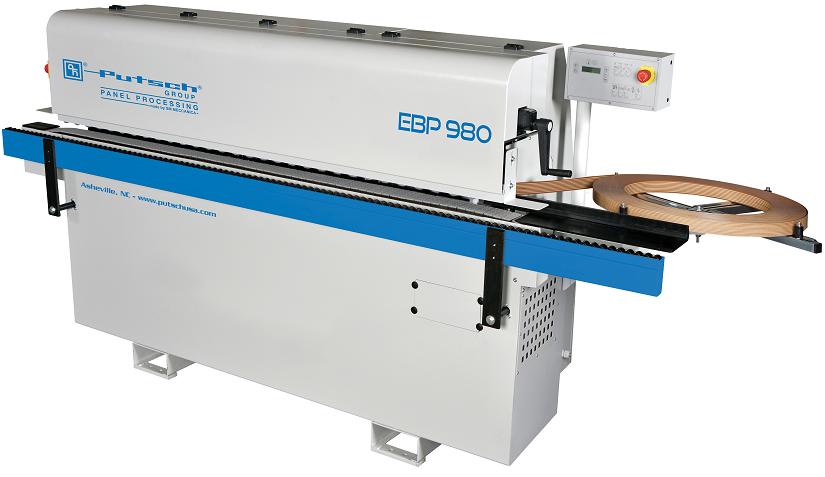 Designed for heavier-duty jobs (such as doors), the EBP 980 Series is robustly built to handle larger banding and panel sizes without sacrificing ease of use. The standard version of the EBP 980 handles .04 to 6 mm thick banding and panels up to 60 mm in height. There is an optional upgrade to allow for up to 10 mm thick wooden strips with automatic strip feed capability.
The EBP 980 Series delivers comprehensive flexibility with three spaces to include optional edge scraping, glue scraping and buffing operation, along with anti-adhesive and cleaning spray stations. Moving at a speed of 11 meters per minute, the chain feed system has scratch-resistant rubber pads to carry the panel for consistent banding. The easy-to-adjust top bar includes a double row of rubber rollers to secure the panel.
Coils are cut using an oscillatory cutting shear for uninterrupted edge feed. The machine has an automatic single-motor end trim unit (0° and 20° cut with manual switch) and 45° movement with collector hood.
The intuitive PLC Control has thermostatic glue control with automatic stand-by and temperature display. The control permits the operator to engage or disable specific work operations while also providing immediate access to diagnostic messages and statistical data such as hours of operation and length of coil used. All operations can be viewed through the illuminated Plexiglas enclosure.
The EBP 980 Series is also available with pre-mill (EBP 980 PM) to provide even greater work flexibility. The pre-mill unit option includes two opposing 60 mm diamond cutters that are micro-adjustable to mill up to 2 mm from the panel edge for optimal, chip-free glue application.
General Technical Data
| Feature | Specs |
| --- | --- |
| Feed Speed | 11 m/min |
| Panel Thickness | 8 mm – 60 mm |
| Edge Thickness in Coils | 3 mm |
| Edge Thickness in Strips Manual Feeding / Automatic Feeding | 6 mm / 10 mm |
| Minimum Panel Length (Side Being Processed) | 120 mm |
| Minimum Panel Width | 110 mm |
| Flush Trimming Motors (Each) | 200 Hz - 12000 RPM - 0.5kW |
| End Trimming Motor | 200 Hz - 12000 RPM - 0.27 kW |
| Compressed Air Operating Pressure | 6.5 bar |
| Compressed Air Consumption During Operation (Pre-mill Version) | 300 NL/min |
| Minimum Air Flow at Dust Extraction Outlets | 20 m/s |
| Air Consumption of Dust Extraction System | 1550 m3/h |