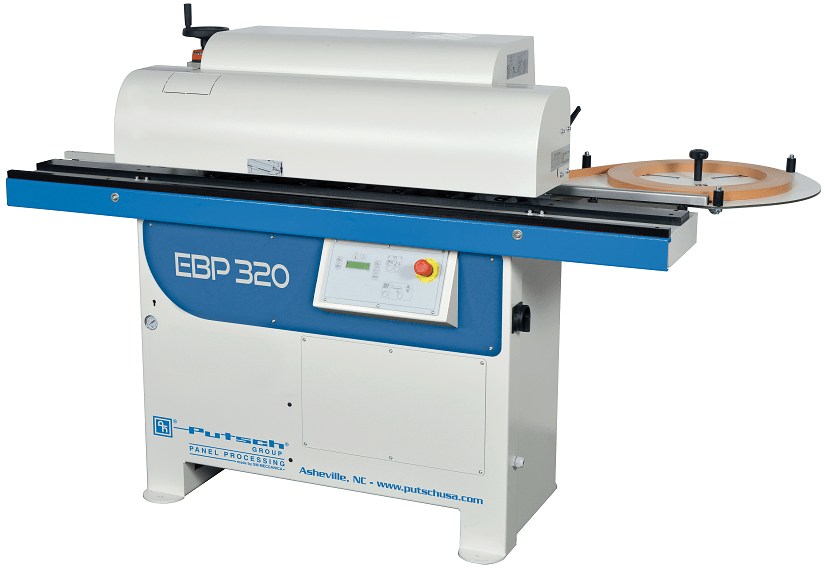 The EBP 320 is our most basic edgebander that is a welcome addition in any small workshop. This highly compact unit (81 in. x 38 in.) is capable of handling 0.4 to 2 mm thick tape. Made for fast start-up with a quick-heating Teflon-coated glue pot, the machine delivers front-and-back as well as top-and-bottom trimming. The EBP 320 is available in both three and single-phase (at additional cost).
Panels are pulled by a steel-reinforced toothed belt over aligning rollers that help to keep the panel flush against fence during operation. The 1800 mm long work table is covered with scratch-resistant phenolic strips and there is a front extending support to help carry larger panels. Banding is cut from the coil via a pneumatic shear.
Three pressure rollers evenly apply the banding to the glued edge, and the front and rear edges of the banding are cut using a pneumatic end trim unit. The top-and-bottom flush trim unit has 75 mm cutters (with disposable knives) that offer a straight / 2 mm radius / 15° bevel. The flush trim unit also includes 120 mm scratch-resistant vertical disc copiers that are ideal for delicate finishes.
An optional mobility kit with caster wheel and t-handle provides the flexibility to store the unit out of the way when not in use.
General Technical Data
| Feature | Specs |
| --- | --- |
| Feed Speed | 7 m/min |
| Panel Thickness | 10 mm – 45 mm |
| Edge Thickness in Coils on Panel | 0.4 mm – 2 mm |
| Flush Trimming Motor | 0.37 kW |
| Minimum Panel Length (Side Being Processed) | 220 mm |
| Minimum Panel Width | 110 mm |
| Compressed Air Operating Pressure | 6.5 bar |
| Compressed Air Consumption During Operation | 90 NL/min |
| Dust Extraction Outlet Connections | 120 mm |
| Minimum Air Flow at Dust Extraction Outlets | 20 m/s |
| Air Consumption of Dust Extraction System | 850 m3/h |